Dave Cousens and Edwin McKie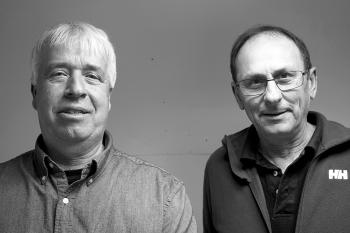 Collection Name
Description
Voices of the Maine Fishermen's Forum 2019 is a project of Maine Sea Grant, The First Coast, College of the Atlantic, and the Island Institute, with support from the Maine Fishermen's Forum Board of Directors.
Biographical Sketch
Dave Cousens is a veteran lobster fisherman from Waterman's Beach, South Thomaston, Maine. He played a crucial role in fostering cooperation between American and Canadian lobster fishermen. Dave's dedication to sustainable fishing practices and his efforts to educate younger generations about the industry have made him a respected leader in the lobster community.
Edwin McKie, hailing from Bay Fortune, PEI, is a seasoned lobster fisherman and advocate for cross-border collaboration in the industry. He played a key role in bridging the gap between Canadian and American lobster fishermen, realizing that they shared common interests. Edwin's commitment to open communication, information sharing, and his involvement in initiatives like the Skipper Program have strengthened relationships and fostered a spirit of cooperation between lobster communities.
Scope and Content Note
In this interview, Dave Cousens and Edwin McKie speak about the social and legal differences between Canadian and U.S. lobster fishing and the projects, such as meetings and the Eastern Maine Skippers Program, that they have worked on together. After meeting sometime between 1998 and 1999, Cousens and McKie have worked together to increase communication and education on the differences between the lobster industry in the U.S. and Canada. Dave and Edwin discuss their efforts to educate younger fishermen and promote cooperation between Maine and Canada. They describe a program where young fishermen from Maine visited PEI to learn about the Canadian lobster fishery and exchange knowledge. They also express concerns about challenges facing the lobster industry, including climate change, bait shortages, and whale entanglement issues. They emphasize the need for collaboration and finding solutions to these challenges. Dave and Edwin highlight the importance of communication, education, and building relationships across national boundaries. 
---
Please Note: The oral histories in this collection are protected by copyright and have been created for educational, research and personal use as described by the Fair Use Doctrine in the U.S. Copyright law. Please reach out  Voices@noaa.gov to let us know how these interviews are being used in your research, project, exhibit, etc.  The Voices staff can help provide other useful resources related to your inquiry. 
The NOAA mission is to understand and predict changes in climate, weather, oceans, and coasts, to share that knowledge and information with others, and to conserve and manage coastal and marine ecosystems and resources. The Voices Oral History Archives offers public access to a wide range of accounts, including historical materials that are products of their particular times, and may contain offensive language or negative stereotypes.
Voices Oral History Archives does not verify the accuracy of materials submitted to us. The opinions expressed in the interviews are those of the interviewee only. The interviews here have been made available to the public only after the interviewer has confirmed that they have obtained consent.