Walton Dickhoff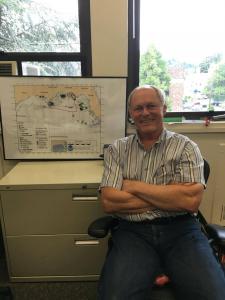 Collection Name
Description
Voices from the Science Centers is an oral history initiative dedicated to documenting the institutional knowledge of fisheries scientists and administrators in the labs of NOAA's Fisheries Science Centers.
Collection doi
10.VSC/1234567890
Biographical Sketch
Dr. Walton "Walt"Dickhoff was born in Wisconsin in 1947. He received his Ph.D. in Physiology from the University of California Berkeley in 1976 and joined the Northwest Fisheries Science Center in 1986 working in the Coastal Zone and Estuarine Studies Division. Dr. Dickhoff is the Division Director of the Environmental and Fisheries Science division, and his research focuses on salmon growth and development.
Interview contains discussions of:NOAA, National Marine Fisheries Service, Northwest Fisheries Science Center, physiology, salmon, parr, smolt, hatcheries, aquaculture, salmon development, salmon migration, genomics, DNA sequencing, big data, climate change, ocean acidification, shellfish, sablefish, Deepwater Horizon oil spill, Puget Sound Restoration Fund.
In this interview, Walt Dickhoff discusses his work with the Northwest Fisheries Science Center over the course of his career. As an undergraduate, he did research on flatfish adaptations and his professor encouraged him to go onto graduate school for physiology. When he finished his PhD, he received a National Institute of Health Fellowship to work in the Zoology Department at the University of Washington. There, one of his students connected him to the Northwest Fisheries Science Center, where the major focus was increasing the survival rate of salmon born in hatcheries by controlling the rate of the maturation from parr to smolt. This research prompted the formation of the Hatcheries Science Review Group, which reviews hatchery operations and genetic management plans.
Dr. Dickhoff believes that some of the challenges of working in government include the instability of funding and the necessity to prioritize only a few research areas. He describes how advancements in technology, particularly in genetics, genomics and big data, havefundamentally changed the nature of biology. He emphasizes how climate change and ocean acidification are affecting his work and how the drastic pH swings of the ocean negatively affect marine animals like shellfish, finfish and corals. For the Paul Allen Foundation's ocean acidification challenge, his lab collaborated on a proposal with Puget Sound Restoration Fund, Univ. Washington, and NOAA Pacific Marine Environmental Laboratory to develop areas of kelp to remove carbon dioxide from the ocean, which is currently being deployed in Hood Canal.
He also discusses his work with sablefish aquaculture and on Deepwater Horizon oil spill seafood safety. In addition, he discusses collaborations within NOAA and with other agencies, and how NMFS encourages collaboration between scientists across divisions. He advises young scientists to keep their eyes open for unexpected opportunities and develop good quantitative skills. He plans on retiring within the next five years.
---
Please Note: The oral histories in this collection are protected by copyright and have been created for educational, research and personal use as described by the Fair Use Doctrine in the U.S. Copyright law. Please reach out  Voices@noaa.gov to let us know how these interviews are being used in your research, project, exhibit, etc.  The Voices staff can help provide other useful resources related to your inquiry. 
The NOAA mission is to understand and predict changes in climate, weather, oceans, and coasts, to share that knowledge and information with others, and to conserve and manage coastal and marine ecosystems and resources. The Voices Oral History Archives offers public access to a wide range of accounts, including historical materials that are products of their particular times, and may contain offensive language or negative stereotypes.
Voices Oral History Archives does not verify the accuracy of materials submitted to us. The opinions expressed in the interviews are those of the interviewee only. The interviews here have been made available to the public only after the interviewer has confirmed that they have obtained consent.