Thomas Wrublewski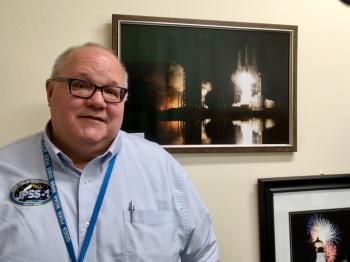 Collection Name
Description
As NOAA celebrates its 50th Anniversary in 2020, there is renewed interest in expanding Oral Histories as a key component of the agency's overall Heritage Program. Through Oral Histories, we will capture the theme: Celebrating the People Behind NOAA - 50 Years of   Science, Service and Stewardship.
Abstract
Since 1980, Tom Wrublewski has been a physical scientist with the U.S. Department of Commerce, National Oceanic and Atmospheric Administration (NOAA) National Environmental Satellite, Data and Information Service (NESDIS). In this post, he initially monitored the operation of instruments onboard the Geostationary Operational Environmental Satellites (GOES) and Polar-orbiting Operational Environmental Satellites (POES) to assure they were properly calibrated and functioning adequately. In January 2020, he retired from the NOAA Joint Polar Satellite System (JPSS) Office at NASA Goddard Space Flight Center.
At Goddard, he worked on the instruments for the GOES-G&H satellites, the refurbishment and launch of NOAA-D, the incorporation of US Air Force Space Test Program instruments on NOAA-I&J; and the acquisition of the POES NOAA-HIJ; K L M; and N and N Prime satellites, instruments, and launch services. He  worked on the GOES Solar X-Ray Imager acquisition followed by the GOES-NOP spacecraft acquisitions. Since 2002, Wrublewski offered his technical and educational expertise to the GOES/POES education and public outreach efforts by working with NASA's Jet Propulsion Laboratory on Space Place and Scijinks.gov, a weather-related Web site geared towards middle school students and teachers. He prepared educational posters, and newspaper and educator journal articles about GOES/POES-related science and technology. In April 2007, his responsibilities were expanded to include the NESDIS acting acquisition management lead for the NOAA-N Prime satellite and the MetOp-B&C NOAA provided instruments. Following the successful launches of GOES-NOP and NOAA-N Prime during the 2006-2010 era, Tom transitioned to helping with the Deep Space Climate Observatory (DSCOVR) project formulation and specifications for its launch services with the USAF. 
In 2011 Tom joined the NOAA JPSS Technical Division where he assisted with getting the JPSS-1 satellite and its five government furnished instruments on contract.  In 2014 and 2015 Tom worked on gathering requirements and studies for the JPSS-2 satellite and served on the Source Evaluation Board for proposal evaluations.  This is a firm fixed-price order for the purchase of the JPSS-2 spacecraft with options to purchase the JPSS-3 and JPSS-4 spacecraft.
In his spare time, Wrublewski enjoys gardening, with over a thousand various daffodils and narcissus blooming in the springtime at his residence and tending to hundreds of daylilies during the summer and fall.
---
Please reach out  Voices@noaa.gov to let us know how these interviews are being used in your research, project, exhibit, etc.  The Voices staff can help provide other useful resources related to your inquiry. 
The NOAA mission is to understand and predict changes in climate, weather, oceans, and coasts, to share that knowledge and information with others, and to conserve and manage coastal and marine ecosystems and resources. The Voices Oral History Archives offers public access to a wide range of accounts, including historical materials that are products of their particular times, and may contain offensive language or negative stereotypes.
Voices Oral History Archives does not verify the accuracy of materials submitted to us. The opinions expressed in the interviews are those of the interviewee only. The interviews here have been made available to the public only after the interviewer has confirmed that they have obtained consent.