Samuel "Sam" Rauch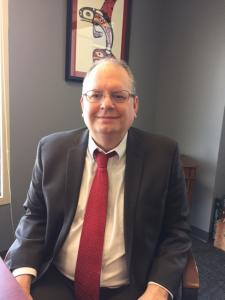 Collection Name
Description
Voices from the Science Centers is an oral history initiative dedicated to documenting the institutional knowledge of fisheries scientists and administrators in the labs of NOAA's Fisheries Science Centers.
Collection doi
10.VSC/1234567890
Biographical Sketch
Mr. Rauch is Deputy Assistant Administrator for regulatory programs of NOAA's National Marine Fisheries Service. After receiving a B.A. from the University of Virginia, he received a M.S. from the University of Georgia with the goal of becoming a forest ecologist scientist. He then earned a J.D. from Northwestern School of Law of Lewis and Clark College and worked for the U.S. Attorney's Office on the spotted owl litigation team. He was transferred to NMFS where he first worked on salmon cases before becoming Assistant Section Chief where he oversaw all NMFS litigations. He came to NOAA Headquarters as the Chief In-house Attorney for NMFS before starting his current position as Deputy Director in 2006.
Interview contains discussions of: NMFS, NOAA, fishing regulations, protected resources, sustainable fisheries, commercial fishing, recreational fishing, salmon, endangered species, Vessel Monitoring System, GPS, Coast Guard, fishery management councils, red snapper, spotted owl, litigations, Magnuson-Stevenson Act, overfishing, Congress, right whales, aquaculture.
Sam Rauch oversees regulations for sustainable fisheries, protected resources, the habitat program, and aquaculture. As Deputy Director, he helps to manage the regulations necessary to ensure marine resources are protected. In this interview, he discusses the changes in the focus of NOAA's NMFS over time. He describes the ways in which regulations are enforced through technology like GPS, trip reports, dealer reports, human observers on boats, and the potential costs and benefits of using on-board camera systems in the future. He also touches upon the occasional conflicts between federal and state regulations and the difficulty of managing inconsistent regulations in federal and state waters. Rauch discusses the hiring practices within NMFS, particularly the use of contractors for specialized tasks instead of hiring a permanent specialist because it is hard to predict what big focus will come next. He also touches on the agency's relationship with Congress and his role educating and advising Congress on fisheries issues.
Rauch is most proud of his work with right whale conservation in the North Atlantic. He helped create regulations to prevent rope entanglement and injury by boats and faced a long and difficult fight in Congress to get the regulations passed, but eventually succeeded. Lastly, Rauch discusses the need for a greater supply of fish as the U.S. population grows and the trouble with current dependence on foreign fish. He believes we will see a rise in U.S. aquaculture in the near future.
---
Please Note: The oral histories in this collection are protected by copyright and have been created for educational, research and personal use as described by the Fair Use Doctrine in the U.S. Copyright law. Please reach out  Voices@noaa.gov to let us know how these interviews are being used in your research, project, exhibit, etc.  The Voices staff can help provide other useful resources related to your inquiry. 
The NOAA mission is to understand and predict changes in climate, weather, oceans, and coasts, to share that knowledge and information with others, and to conserve and manage coastal and marine ecosystems and resources. The Voices Oral History Archives offers public access to a wide range of accounts, including historical materials that are products of their particular times, and may contain offensive language or negative stereotypes.
Voices Oral History Archives does not verify the accuracy of materials submitted to us. The opinions expressed in the interviews are those of the interviewee only. The interviews here have been made available to the public only after the interviewer has confirmed that they have obtained consent.