Roger Griffis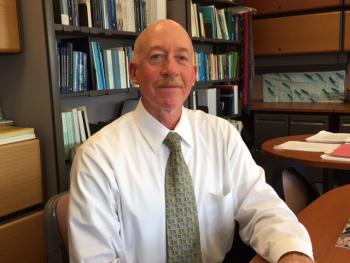 Collection Name
Description
Voices from the Science Centers is an oral history initiative dedicated to documenting the institutional knowledge of fisheries scientists and administrators in the labs of NOAA's Fisheries Science Centers.
Collection doi
10.VSC/1234567890
Biographical Sketch
Roger Griffis is a climate change coordinator for NOAA's National Marine Fisheries Service. He has a B.S. in Biology from Carleton College and a Master's in Ecology and Evolutionary Biology from UC Irvine. Griffis grew up in Minnesota with a fascination for lakes and streams, and was particularly inspired by the complexity of ecosystems. Wanting to play a role in protecting the environment, he was led to conservation work through the Knauss Sea Grant Fellowship in Washington D.C in 1994. He spent a year in the NOAA Office of Policy and Planning where he helped advise policy makers on issues relating to the conservation of marine biodiversity and was subsequently hired for a full-time position in 1996. He started in his current position in 2010.
Interview contains discussions of: NOAA, NMFS, climate change, climate-related change, global warming, marine ecosystems, coral reefs, conservation, acidification, fishery biology, trust resources, Climate Science Strategy, Magnuson Stevens Act, Endangered Species Act, Marine Mammal Protection Act, Sea Grant Fellowship.
In this interview, Roger Griffis discusses his path to his current position as Climate Change Coordinator for NMFS, projects he has worked on during his career, and what's in store for the future of climate science within NOAA. In his position, he helps assess the impact of climate-related change on the oceans and what the agency should be doing to prepare and respond to those changes.
Griffis describes the growing collaboration with scientists from other countries as well as other federal agencies. He names Australia as a pioneer in tracking and documenting climate-related changes, particularly regarding coral reef conservation—an area of research in which Griffis worked both domestically and internationally and considers to be one of his proudest accomplishments. He has also helped to identify the seven core areas of NMFS's Climate Science Strategy and worked on a project to conduct vulnerability assessments for marine species be in response to changing temperatures in order to prioritize preparation for climate impacts.
He states the current challenge for NMFS is to begin looking at the climate implications for fishery management and determining how to successfully manage fisheries in a changing ocean environment. He emphasizes the need for cross-disciplinary of information across fields ranging from biology, to physics, to economics, to social science, and the need to be able to construct multiple possibilities of future scenarios. He also talks about the importance of learning about changing fisheries from the local fishermen themselves. He ends by highlighting the important role those in leadership positions have in paving the way for future success, and the value of vision, determination, and continued efforts over time.
---
Please Note: The oral histories in this collection are protected by copyright and have been created for educational, research and personal use as described by the Fair Use Doctrine in the U.S. Copyright law. Please reach out  Voices@noaa.gov to let us know how these interviews are being used in your research, project, exhibit, etc.  The Voices staff can help provide other useful resources related to your inquiry. 
The NOAA mission is to understand and predict changes in climate, weather, oceans, and coasts, to share that knowledge and information with others, and to conserve and manage coastal and marine ecosystems and resources. The Voices Oral History Archives offers public access to a wide range of accounts, including historical materials that are products of their particular times, and may contain offensive language or negative stereotypes.
Voices Oral History Archives does not verify the accuracy of materials submitted to us. The opinions expressed in the interviews are those of the interviewee only. The interviews here have been made available to the public only after the interviewer has confirmed that they have obtained consent.