Phil Bramhall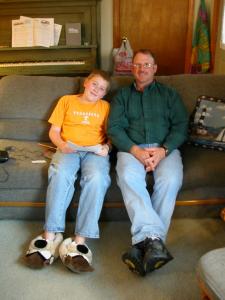 Collection Name
Description
The Finding Friendship Oral History Project is a joint effort of the Friendship Museum and the Friendship Village School, directed by Sally Merrick, museum volunteer, and Gaylea Hynd, teacher. In 2003-2004 sixth grade students conducted taped interviews of three generations of lobstermen and women, as well as others associated with the lobstering industry. Printed copies of the interviews and CDs of the printed transcripts are available at the Friendship Museum in Friendship, Maine.
Biographical Sketch
Phil Bramhall, born on November 6, 1959, is a lifelong resident of Friendship, where his family has lived for four generations. He has two children and has been involved in two primary occupations throughout his life. As a lobsterman for thirty-four years, Phil followed in the footsteps of his father and grandfather, who were both lobster fishermen. Phil started lobstering at the age of ten. As the owner and captain of his 32-foot fiberglass boat named Amanda Kate, Phil takes charge of setting and hauling all the traps. His daily routine involves setting traps in specific locations, such as ledges or different types of bottoms, depending on where the lobsters are most abundant at a given time of year. He works closely with his sternman, Danny Robinson, who assists with tasks like baiting traps, painting buoys, and rigging traps. In addition to lobstering, Phil has served as a firefighter for 28 years and currently holds the position of Fire Chief.
Scope and Content Note
This oral history interview with Phil Bramhall, conducted by Brandon on October 26, 2003, provides insights into Phil's life as a lobsterman and firefighter in Friendship, where his family has deep roots. Phil's involvement in lobstering stems from a family tradition, with his father and grandfather having been lobster fishermen. The interview covers various aspects of his lobstering career, including his daily routine, boat description, trap specifications, bait preferences, and the impact of weather on his fishing activities. Phil shares personal anecdotes, challenges faced at sea, and the evolution of lobstering practices over the years. The interview also touches on Phil's role as a firefighter and his interests outside of work. When not engaged in his professional pursuits, he enjoys carpentry work, hunting, camping, and traveling. Phil appreciates the ever-changing nature of lobstering, where each day presents unique experiences and diverse natural surroundings. Despite the challenges posed by adverse weather conditions, he finds joy in the freedom and unpredictability that lobstering offers.
---
Please Note: The oral histories in this collection are protected by copyright and have been created for educational, research and personal use as described by the Fair Use Doctrine in the U.S. Copyright law. Please reach out  Voices@noaa.gov to let us know how these interviews are being used in your research, project, exhibit, etc.  The Voices staff can help provide other useful resources related to your inquiry. 
The NOAA mission is to understand and predict changes in climate, weather, oceans, and coasts, to share that knowledge and information with others, and to conserve and manage coastal and marine ecosystems and resources. The Voices Oral History Archives offers public access to a wide range of accounts, including historical materials that are products of their particular times, and may contain offensive language or negative stereotypes.
Voices Oral History Archives does not verify the accuracy of materials submitted to us. The opinions expressed in the interviews are those of the interviewee only. The interviews here have been made available to the public only after the interviewer has confirmed that they have obtained consent.