Patricia Clay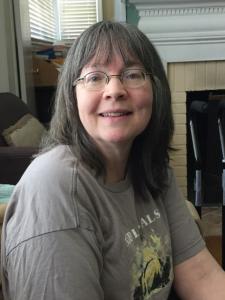 Collection Name
Description
Voices from the Science Centers is an oral history initiative dedicated to documenting the institutional knowledge of fisheries scientists and administrators in the labs of NOAA's Fisheries Science Centers.
Collection doi
10.VSC/1234567890
Biographical Sketch
Dr. Patricia Clay is a fisheries anthropologist with the Social Science Branch of NOAA, where she has worked since 1993. She has a B.A. in Anthropology and Modern Languages from Notre Dame, and a PhD in Anthropology from Indiana University. She works with the NMFS Northeast Fisheries Science Center in Woods Hole, Massachusetts from the NMFS headquarters in Silver Spring, Maryland.
Interview contains discussions of: anthropology, fisheries anthropology, fisheries management, NOAA, NMFS, social impact assessment, social sciences, fishermen, fishing communities, catch shares, Magnuson-Stevens Act, women in science, minorities in science, databases, SAS, oral histories, government agencies
In this interview, Dr. Clay discusses her varied work as an anthropologist with the Northeast Fisheries Science Center, and the development and growing significance of fisheries anthropology over the course of her career. She was the first Social Scientist of any kind, excluding economists, to be hired by NMFS in the Northeast. She discusses how natural scientists were initially hesitant to accept her anthropology work, primarily interviewing fishermen in the field, as a legitimate science. Her work consists of researching questions relating to the human element of fishing: who the fishermen are, what they do, who their families are, and who their communities are. She describes her career path, from being drawn to anthropology after entering university as a chemical engineering major to her graduate research in a Venezuelan fishing neighborhood. Clay also discusses how the number of women working in science has increased over time, and how the percentage of scientists in her field that are ethnic minorities is still low. When she first began working at NMFS, she found that the other scientists questioned the value of anthropologists, particularly the usefulness and validity of qualitative work like oral histories, but has seen this improve over time. Clay concludes by commenting on her love for her job, particularly the freedom it allows her in choosing her research projects. She feels that there are many areas of fisheries anthropology with the potential for future research.
---
Please Note: The oral histories in this collection are protected by copyright and have been created for educational, research and personal use as described by the Fair Use Doctrine in the U.S. Copyright law. Please reach out  Voices@noaa.gov to let us know how these interviews are being used in your research, project, exhibit, etc.  The Voices staff can help provide other useful resources related to your inquiry. 
The NOAA mission is to understand and predict changes in climate, weather, oceans, and coasts, to share that knowledge and information with others, and to conserve and manage coastal and marine ecosystems and resources. The Voices Oral History Archives offers public access to a wide range of accounts, including historical materials that are products of their particular times, and may contain offensive language or negative stereotypes.
Voices Oral History Archives does not verify the accuracy of materials submitted to us. The opinions expressed in the interviews are those of the interviewee only. The interviews here have been made available to the public only after the interviewer has confirmed that they have obtained consent.