Kenneth Sherman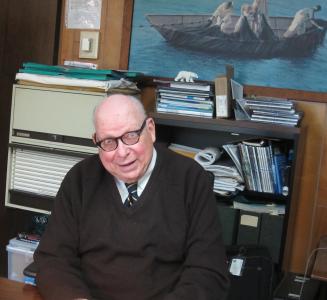 Collection Name
Description
Voices from the Science Centers is an oral history initiative dedicated to documenting the institutional knowledge of fisheries scientists and administrators in the labs of NOAA's Fisheries Science Centers.
Collection doi
10.VSC/1234567890
Biographical Sketch
Kenneth Sherman was born on October 6, 1932 and was raised in Boston, Massachusetts.In his early years, he would spend time with his father at the local Boston Fish Pier to observe the fishermen. He graduated from Suffolk University with the idea of attending law school. A mentor guided him towards biological sciences so he applied to the Woods Hole Oceanographic Institution. He taught in western Massachusetts for the Audubon Society before he began his career at the Bureau of Commercial Fisheries in 1956. He received his Master's degree in Biological Oceanography from the University of Rhode Island and a DSc from the Sea Fisheries Institute in Gdynia. He worked in Washington during President Nixon's administration when NOAA was created. He has traveled to Hawaii, parts of southern Africa and other parts of the developing world and Sweden in his pursuit of the study of plankton and fish relationships on a global scale in hopes to further advance fisheries sustainability. He has spent the last several years working with the Office of Science and Technology on the assessment and management of Large Marine Ecosystems.
Interview contains discussions of: plankton, mackerel, herring, tuna, faux sardines, Randolph High School, trawls, large marine ecosystems, MARMAP, and Large Marine Ecosystem sustainability levels. 
Kenneth Sherman recounts his 56 year career with NMFS and his work with plankton and Large Marine Ecosystems.
---
Please Note: The oral histories in this collection are protected by copyright and have been created for educational, research and personal use as described by the Fair Use Doctrine in the U.S. Copyright law. Please reach out  Voices@noaa.gov to let us know how these interviews are being used in your research, project, exhibit, etc.  The Voices staff can help provide other useful resources related to your inquiry. 
The NOAA mission is to understand and predict changes in climate, weather, oceans, and coasts, to share that knowledge and information with others, and to conserve and manage coastal and marine ecosystems and resources. The Voices Oral History Archives offers public access to a wide range of accounts, including historical materials that are products of their particular times, and may contain offensive language or negative stereotypes.
Voices Oral History Archives does not verify the accuracy of materials submitted to us. The opinions expressed in the interviews are those of the interviewee only. The interviews here have been made available to the public only after the interviewer has confirmed that they have obtained consent.