Jeanette Davis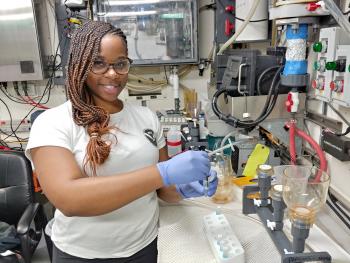 Collection Name
Description
As NOAA celebrates its 50th Anniversary in 2020, there is renewed interest in expanding Oral Histories as a key component of the agency's overall Heritage Program. Through Oral Histories, we will capture the theme: Celebrating the People Behind NOAA - 50 Years of   Science, Service and Stewardship.
Biographical Sketch
Dr. Jeanette Davis is a Marine Microbiologist who currently serves at NOAA Fisheries in the Office of Policy  where she conducts research and provides support on programs and policies regarding resources in the ocean. Dr. Davis was first exposed to the marine environment as a student at Hampton University during an internship where she lived on a 53-foot sailboat for a month, exploring the Chesapeake Bay. She earned a B.S. in Marine and Environmental Science from Hampton University and a PhD. in Marine Microbiology from the University of Maryland, College Park. During her PhD. she studied bacteria association with tropical sea slugs that harbor medicinal compounds. Dr. Davis is recently cited in Science Magazine where she ultimately helped discover a bacterium associated with a Hawaiian sea slug that produces an anticancer compound.  
Currently Dr. Davis contributes to ocean science nationally and internationally. She recently worked with notable scientists to author a national publication released from the White House that highlights essential ocean research and technology topics for the next decade. She serves as the US representative for two intergovernmental advisory panels where she travels to various countries to promote, coordinate, and form scientific synergies between various countries and governments. Dr. Davis has traveled to over a dozen countries to discuss ocean science and has been featured in several prominent magazines such as Ebony, Essence, and Black Enterprise as the "next great marine biologist". 
Outside of her professional career, Dr. Davis is a strong advocate of community and has mentored countless students from elementary to college, lectured at several colleges, and founded the Marquis Pressey Scholarship which has awarded two African American males in her hometown of Wilmington, DE.
Dr. Davis attributes much of her success as a scientist to a strong foundation that she received in the Marine Science Department at Hampton University where she currently serves as an Adjunct Professor. Dr. Davis lectures and holds membership on several graduate advisory committees through the Department and understands the importance of empowering young people through science.
---
Please reach out  Voices@noaa.gov to let us know how these interviews are being used in your research, project, exhibit, etc.  The Voices staff can help provide other useful resources related to your inquiry. 
The NOAA mission is to understand and predict changes in climate, weather, oceans, and coasts, to share that knowledge and information with others, and to conserve and manage coastal and marine ecosystems and resources. The Voices Oral History Archives offers public access to a wide range of accounts, including historical materials that are products of their particular times, and may contain offensive language or negative stereotypes.
Voices Oral History Archives does not verify the accuracy of materials submitted to us. The opinions expressed in the interviews are those of the interviewee only. The interviews here have been made available to the public only after the interviewer has confirmed that they have obtained consent.