James McFadden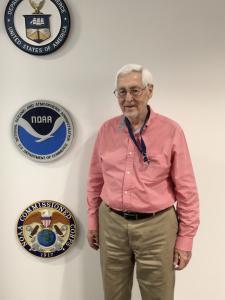 Collection Name
Description
As NOAA celebrates its 50th Anniversary in 2020, there is renewed interest in expanding Oral Histories as a key component of the agency's overall Heritage Program. Through Oral Histories, we will capture the theme: Celebrating the People Behind NOAA - 50 Years of   Science, Service and Stewardship.
Biographical Sketch
Dr. James McFadden was born in Winchester, Virginia, in 1934.  He graduated from Virginia Polytechnic Institute and State University and graduated with a degree in geology.  In 1960, James was offered a research assistantship at the University of Wisconsin-Madison's meteorology program.  He spent five years in Madison and earned his PhD in meteorology.  In 1965, McFadden came to work for the Environmental Science Services Administration's Sea-Air Laboratory, part of the Office of Meteorological Research in Washington, D.C. as a research scientist.  His first flight with NOAA's hurricane hunters was accidental.  It was a research flight that took place during Hurricane Inez in 1966.  James would go on to fly into the eye of 574 storms, earning a Guinness World Record for longest career as a hurricane hunter.  He currently serves as Chief of Programs and Projects at NOAA's Aircraft Operations Center.
---
Please reach out  Voices@noaa.gov to let us know how these interviews are being used in your research, project, exhibit, etc.  The Voices staff can help provide other useful resources related to your inquiry. 
The NOAA mission is to understand and predict changes in climate, weather, oceans, and coasts, to share that knowledge and information with others, and to conserve and manage coastal and marine ecosystems and resources. The Voices Oral History Archives offers public access to a wide range of accounts, including historical materials that are products of their particular times, and may contain offensive language or negative stereotypes.
Voices Oral History Archives does not verify the accuracy of materials submitted to us. The opinions expressed in the interviews are those of the interviewee only. The interviews here have been made available to the public only after the interviewer has confirmed that they have obtained consent.