Helen Wood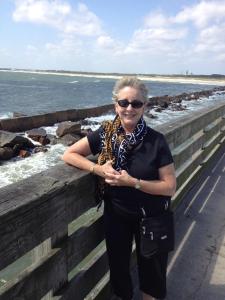 Collection Name
Description
As NOAA celebrates its 50th Anniversary in 2020, there is renewed interest in expanding Oral Histories as a key component of the agency's overall Heritage Program. Through Oral Histories, we will capture the theme: Celebrating the People Behind NOAA - 50 Years of   Science, Service and Stewardship.
Date of Interview
10-08-2021
11-09-2021
11-16-2021
Transcribers
Fantastic Transcripts
Molly Graham
Abstract
Helen joined the National Oceanic and Atmospheric Administration (NOAA) in 1988 as Director of the Office of Satellite Data Processing and Distribution, in the NOAA Satellite and Information Service.  For more than 15 years she directed the operation of a space and Earth-based system that processed and distributed real-time data gathered by NOAA and other environmental satellites to support activities such as weather forecasting, ocean and climate monitoring, and satellite-assisted search and rescue. From 2003 until retiring from full-time employment in 2010, Helen served as NOAA Senior Advisor for Special Projects and NOAA Global Earth Observation System of Systems (GEOSS) Integration Manager.  She co-chaired the Global Earth Observation (USGEO) Subcommittee under the President's National Science and Technology Council (NSTC). The USGEO provides leadership and coordination to assess, plan and integrate the Earth observation activities and programs of the U.S. Federal government to maximize societal benefits from these investments.  It also coordinates U.S. engagement in the intergovernmental Group on Earth Observations (GEO).  Helen served as the first Secretariat Director for the, then, ad hoc intergovernmental GEO.  During that time, she managed GEO Secretariat activities leading to the development of the first GEOSS 10-year Implementation Plan, which was accepted by Ministers at the Earth Observation Summit in 2005 and is now supported by over 100 governments. She led the establishment of the GEO Secretariat Office in Geneva, Switzerland. Helen led the formation of the NOAA Environmental Data Management Committee and served as its inaugural chair.  This committee coordinates the development of NOAA's environmental data management strategy and policy and provides guidance to promote its consistent implementation across NOAA.  It reports to both the NOAA Observing Systems Council and the NOAA CIO Council. Helen was a recognized leader in national and international activities aimed at reducing disaster losses and improving economic vitality through the improved use of science and technology.  She chaired the National Science and Technology Council Subcommittee on Disaster Reduction and served on the steering committee of the National Research Council Disasters Roundtable.  After retiring from federal service, Helen was re-appointed to the position of Senior Advisor for Special Projects as a rehired annuitant on a part-time basis.  She continued to serve as USGEO co-chair and to provide leadership to NOAA environmental data management policy and planning activities for 2 years. After leaving government service, Helen consulted for NOAA NESDIS and later for several private sector companies on environmental data management. Prior to joining NOAA, Helen was Deputy Director of the Institute for Computer Sciences and Technology in the U.S. National Bureau of Standards (NBS) (now the National Institute of Standards and Technology).  She directed NBS activities in computer and communications standardization, computer science research, and provided technical advisory services to other Government agencies.  She was appointed to the Senior Executive Service in 1986. Helen was elected Fellow of the Institute for Electrical and Electronics Engineers (IEEE) for her leadership and contributions to computing and communications.  She held elected positions in the Computer Society and the IEEE, including Computer Society President, IEEE Board of Directors), and IEEE Vice President for Publication Activities.  She served two terms on the IEEE Computer editorial board and was an invited speaker and chair of numerous panels and sessions at technical and scientific conferences and symposia around the world.  She served on the National Academy of Public Administration Panel on Electronic Recordkeeping and on the National Research Council Panel on High Technology Workforce. She was also a member of the American Meteorological Society, the Association for Computing Machinery, the Association for Women in Computing, and the American Association for the Advancement of Science. Helen is a recipient of two U.S. Department of Commerce Gold Medals, the Department's Silver and Bronze Medals, and the Presidential Meritorious Rank Award.  She received the Meritorious Service Award from the American National Standards Institute for her leadership and service in information technology standards.  She was named Engineering Manager of the Year by the IEEE Engineering Management Society and was awarded the IEEE Computer Society Richard E. Merwin Distinguished Service Award.  She has numerous publications on her work in computer networking, computer security, information technology standardization, the use of environmental satellites to support disaster reduction, and integrated Earth observations and data management.  She holds a B.S. in Mathematics from the University of Maryland and an M.S. in Computer Science from The American University. Since 2012 she has pursued a new career path as an artist. She paints in pastel and is an active member of several art associations. She is married to James Costrell and has a daughter, Rebecca Hawes, and two 16 year old grandchildren. In 2020 Helen retired from a more than 50-year career in science and technology.   
---
Please reach out  Voices@noaa.gov to let us know how these interviews are being used in your research, project, exhibit, etc.  The Voices staff can help provide other useful resources related to your inquiry. 
The NOAA mission is to understand and predict changes in climate, weather, oceans, and coasts, to share that knowledge and information with others, and to conserve and manage coastal and marine ecosystems and resources. The Voices Oral History Archives offers public access to a wide range of accounts, including historical materials that are products of their particular times, and may contain offensive language or negative stereotypes.
Voices Oral History Archives does not verify the accuracy of materials submitted to us. The opinions expressed in the interviews are those of the interviewee only. The interviews here have been made available to the public only after the interviewer has confirmed that they have obtained consent.