Eddie Bernard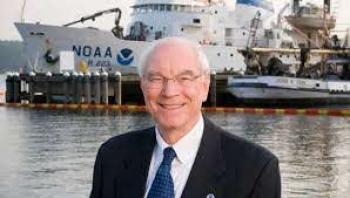 Collection Name
Description
NOAA Heritage Oral History Project aims to document the history and legacy of NOAA through compelling interviews with its leaders. These firsthand accounts provide an invaluable resource that preserves NOAA's significant contributions to environmental research and management, fostering a deeper understanding of NOAA's vital role in shaping our understanding of the Earth's oceans and atmosphere.
Biographical Sketch
Dr. Eddie Bernard was born in 1946 in Houston, Texas.  He attended Lamar University in Beaumont, Texas, where he met his wife Shirley and graduated in 1969 with a Bachelor of Science in Physics (with honors).  Eddie earned his Master of Science degree in Oceanography at Texas A&M University, where a professor offered Eddie a research position conducting tsunami research, thus creating "the accidental tsunami guy."  After completing a Master of Science in Oceanography in a record-setting year, Eddie joined the NOAA Corps in October 1970 and remained with NOAA for 40 years until his retirement in 2011.  In 1976, Bernard graduated with his Ph.D. in Oceanography while working as a NOAA Corps Officer assigned to the Joint Tsunami Research Effort in Honolulu, Hawaii. During his 40-year NOAA career, he served as a NOAA Corps line officer aboard the NOAA Ship Researcher, completed a Ph.D. in Oceanography at Texas A&M University in 1976 and was appointed Director of the Pacific Tsunami Warning Center (PTWC) in Honolulu, Hawaii. After Eddie resigned from the Corps in 1980, he was selected as Director of NOAA's Pacific Marine Environmental Laboratory (PMEL) in Seattle, Washington. He Directed PMEL for 30 years. His tour at PTWC led to his career-long passion for tsunami warning/research that culminated in the development of a deep ocean tsunami detection system (DART) that transmitted real-time tsunami data used by numerical models to forecast tsunami flooding. This research system became NOAA's operational system in 2006. He helped write Public Law 109 - 424 - Tsunami Warning and Education Act, which was signed into law in 2006.
---
Please Note: The oral histories in this collection are protected by copyright and have been created for educational, research and personal use as described by the Fair Use Doctrine in the U.S. Copyright law. Please reach out  Voices@noaa.gov to let us know how these interviews are being used in your research, project, exhibit, etc.  The Voices staff can help provide other useful resources related to your inquiry. 
The NOAA mission is to understand and predict changes in climate, weather, oceans, and coasts, to share that knowledge and information with others, and to conserve and manage coastal and marine ecosystems and resources. The Voices Oral History Archives offers public access to a wide range of accounts, including historical materials that are products of their particular times, and may contain offensive language or negative stereotypes.
Voices Oral History Archives does not verify the accuracy of materials submitted to us. The opinions expressed in the interviews are those of the interviewee only. The interviews here have been made available to the public only after the interviewer has confirmed that they have obtained consent.