Alfred Simmons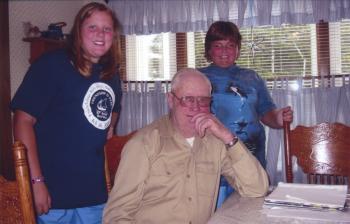 Collection Name
Description
The Finding Friendship Oral History Project is a joint effort of the Friendship Museum and the Friendship Village School, directed by Sally Merrick, museum volunteer, and Gaylea Hynd, teacher. In 2003-2004 sixth grade students conducted taped interviews of three generations of lobstermen and women, as well as others associated with the lobstering industry. Printed copies of the interviews and CDs of the printed transcripts are available at the Friendship Museum in Friendship, Maine.
Transcribers
Kristy
Suzanne
Peggy Simmons
Biographical Sketch
Alfred "Buddy" Simmons, born on August 6, 1926, in the small coastal town of Friendship, was widely recognized in the community. He devoted his entire life to lobstering, a trade deeply intertwined with his family heritage. Buddy spent 65 years as a lobster fisherman and shared his insights in an interview shortly before his passing on February 9, 2004. He is survived by his wife Dorothy, five daughters, and 11 grandchildren, although his only son tragically died in a car accident during his teenage years. Buddy's lobstering journey began with 25 traps, but over time he expanded to setting 600 traps, maintaining 150 traps in preparation for the fall season offshore. Alongside his lobstering career, Buddy also served in the Merchant Marine and witnessed firsthand the evolution of lobstering practices, from using wooden traps and glass toggles to the changes that have occurred over the years.
Scope and Content Note
On September 27, 2003, Kristy and Suzanne conducted an interview with Buddy at his home in Friendship. Buddy shares his experiences and stories of spending 65 years on the sea as a lobsterman. He lived a humble life, deeply connected to his hometown, and cherished his close-knit family, including his two brothers, one sister, and his wife Dorothy, who provided unwavering support. They raised six children together but tragically lost their only son in a car accident during his teenage years. Buddy's true passion was lobstering, which he pursued from a young age. Starting at 12 years old, he dedicated his life to the craft, navigating the challenging coastal waters and enduring all types of weather conditions. He was known for his independence and relished the freedom that came with being a lobsterman. Throughout his career, Buddy took on all responsibilities aboard his boat, the Dorothy E, from setting traps to hauling gear and ensuring the safety of the vessel. His extensive experience and knowledge made him highly respected in the community. Buddy's lobstering methods were traditional and rooted in a bygone era. He initially used handmade wooden traps that he constructed during the winter months, carefully selecting trees, bending hoop rings, and tar-dipping cotton snoods to attract lobsters. As technology advanced, Buddy adapted by acquiring one of the first fiberglass boats in Friendship, appreciating the reduced maintenance compared to wooden vessels. However, he never lost his appreciation for the craftsmanship involved in making wooden traps. Beyond lobstering, Buddy encountered various marine life during his expeditions, including fish, conks, crabs, and v-notched lobsters. He actively participated in the v-notching program to protect the lobster population, aware of the scarcity of lobsters in the past that led his grandfather to leave the trade. Reflecting on his career, Buddy emphasizes the impact of weather conditions on lobstering and the challenges that came with the profession. He faced foggy days and boat breakdowns with resilience, navigating treacherous waters with grace and confidence. Despite witnessing significant changes in the industry, such as the transition to hog-ringed traps, Buddy maintained his love for lobstering. He continues to pass on his knowledge and passion to his grandsons, Jeremy and Scotty, by painting pot buoys and providing guidance.
---
Please Note: The oral histories in this collection are protected by copyright and have been created for educational, research and personal use as described by the Fair Use Doctrine in the U.S. Copyright law. Please reach out  Voices@noaa.gov to let us know how these interviews are being used in your research, project, exhibit, etc.  The Voices staff can help provide other useful resources related to your inquiry. 
The NOAA mission is to understand and predict changes in climate, weather, oceans, and coasts, to share that knowledge and information with others, and to conserve and manage coastal and marine ecosystems and resources. The Voices Oral History Archives offers public access to a wide range of accounts, including historical materials that are products of their particular times, and may contain offensive language or negative stereotypes.
Voices Oral History Archives does not verify the accuracy of materials submitted to us. The opinions expressed in the interviews are those of the interviewee only. The interviews here have been made available to the public only after the interviewer has confirmed that they have obtained consent.