Albert Simmons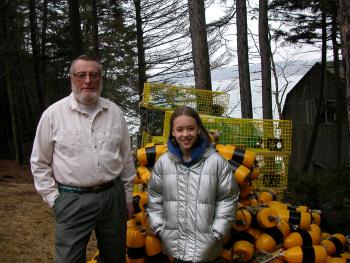 Collection Name
Description
The Finding Friendship Oral History Project is a joint effort of the Friendship Museum and the Friendship Village School, directed by Sally Merrick, museum volunteer, and Gaylea Hynd, teacher. In 2003-2004 sixth grade students conducted taped interviews of three generations of lobstermen and women, as well as others associated with the lobstering industry. Printed copies of the interviews and CDs of the printed transcripts are available at the Friendship Museum in Friendship, Maine.
Biographical Sketch
Albert Simmons was born on February 17, 1938, and his family has lived in Friendship, Maine for three generations. He and his wife, Peggy, have two children and four grandchildren. A lobsterman for 50 years, he has also served in the Navy and as Fire Chief of Friendship.  His hobbies include building models of working boats, hunting, fishing, reading, and cooking.   
Scope and Content Note
During an interview with Alexiee in September 2003, Albert shared valuable insights into his life as a lobsterman. He began lobstering at the age of twelve, starting with a row skiff and gradually progressing to a larger 18-foot double-ended boat powered by a 5-cylinder make-and-break Hartford engine. Throughout his 50-year lobstering career, he has been fully involved in every aspect of the job. Albert operates his own boat, handling tasks such as driving, trap hauling, baiting, and identifying suitable locations for setting traps. Although Albert mainly operates alone, his brother occasionally accompanies him as a sternman. Lobstering has been a tradition in Albert's family for numerous generations, with a strong influence from his father's profession. Albert's daily routine begins early, with a wake-up time of 4:30 a.m. After having breakfast, he heads to his boat, loads the bait, and starts hauling traps at daylight. He typically fishes about six miles out and pulls around 200 traps per day for three consecutive days, totaling 600 traps. When catching lobsters, Albert follows regulations and returns any lobsters that do not meet the required size, as determined by a lobster measure gauge. He also throws back lobsters with nicks on the right side of their tails, as they may be egg bearers, emphasizing the importance of conservation. In addition to lobsters, Albert's traps occasionally catch other fish species, such as codfish, flounder, sculpin, mackerel, stripers, eels, and other shellfish. These non-target species are released back into the water. At the end of each day, Albert takes his lobsters to the buyer's wharf, where the price for his catch is determined by the supply and demand in the market. A typical haul for him ranges between 200 and 300 pounds
Included in the interview is a photo of the Pauline, an 83-foot sardine carrier launched in 1948.
---
Please Note: The oral histories in this collection are protected by copyright and have been created for educational, research and personal use as described by the Fair Use Doctrine in the U.S. Copyright law. Please reach out  Voices@noaa.gov to let us know how these interviews are being used in your research, project, exhibit, etc.  The Voices staff can help provide other useful resources related to your inquiry. 
The NOAA mission is to understand and predict changes in climate, weather, oceans, and coasts, to share that knowledge and information with others, and to conserve and manage coastal and marine ecosystems and resources. The Voices Oral History Archives offers public access to a wide range of accounts, including historical materials that are products of their particular times, and may contain offensive language or negative stereotypes.
Voices Oral History Archives does not verify the accuracy of materials submitted to us. The opinions expressed in the interviews are those of the interviewee only. The interviews here have been made available to the public only after the interviewer has confirmed that they have obtained consent.